SGDS is the only guide dog school in the world that is fully funded by a corporation, Samsung Fire & Marine Insurance. The goal of SGDS is to help increase independence and self-reliance among the visually impaired people of Korea thereby instilling the value of giving something back to society.
Since its launch in 1994, based on proven and tested training methods, the school graduates 15 guide dogs a year and donates to the visually impaired free of charge. The school maintains partnerships with well established guide dog schools and organizations around the world and doing our best to train the finest caliber guide dogs. From puppy to when dogs retire, the school with its base of volunteers works to foster the growth and spirit of respecting life and all living creatures.
Not only is the focus on animal welfare but also on improving the lives of the disabled in Korea by working to amend existing disability related laws to ensure that guide dogs are protected as part of the wider "welfare laws for the disabled" , which came into effect January 2000. The only school in the world to be managed and funded by a corporation, the Samsung Guide Dog School as part of the Samsung Group's commitment to contribute to society, is setting a positive example.
SAMSUNG GUIDE DOG SCHOOL'S VISION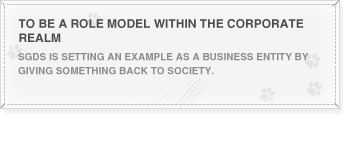 CHRONOLOGY
| | |
| --- | --- |
| 1993.8 | Established Samsung Guide Dog School |
| 1994.4 | Donated the first guide dog "Bah Dah" |
| 1999.1 | Became a member of IGDF(International Guide Dog Federation) |
| 2002.5 | Hosted IGDF Seminar |
| 2005.1 | TV Drama about Guide Dog "My love Toram" aired |
| 2006.11 | Hosted 1st Annual Educational Camp for students with visual impairment |
| 2007.3 | Graduated 100 guide dogs |
| 2009.2 | Provide training support for Taiwan Guide Dog Association trainers |
| 2010.4 | Provide training for Japan Kansai Guide Dogs for the Blind Association trainers |
| 2011.9 | TV Drama, "The Greatest Gift" aired (SBS) |
| 2016.4 | TV Drama, "Perfect sense" aired (KBS) |
| 2017.11 | Graduated 200 guide dogs |