Guide dogs are responsible for the safety of people with visual impairment.
Guide dogs are service dogs specially trained to help visually impaired people move around obstacles.
They also perform tasks to increase their partner's independence and provide loving companionship.

Guide dogs determine the level of welfare for the people with disability in the country, and in a society where guide dogs are welcomed, they are generally considered as an advanced welfare country with full consideration for the people with disability.
Marks for Guide dogs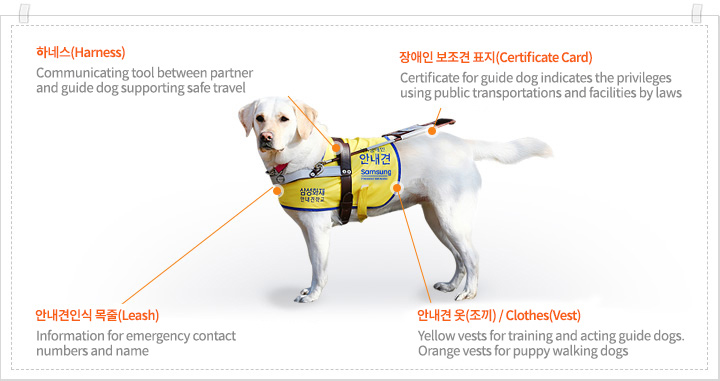 하네스(Harness)

Guided dogs with visually impaired partners wear harnesses over yellow clothes. A harness is a leather product worn by guide dogs and is designed for them and their partners to communicate their movements and walk safely. This tool acts as a kind of communication and allows dogs and guide dogs to move like one body
안내견 옷(조끼) / Clothes(Vest)

The guide dog training institution is specified with the phrase "guide dog". Yellow (fluorescent): Guide dogs that are active as a guide dogs or are being trained at guide dog training institutions are worn, and the phrase "Guide dogs" is clearly written, making it easy to see that they are guide dogs.
Orange: To become a guide dog, dogs with less than a year of socialization (puppy walking) wear clothes with the phrase "I am studying to be a guide dog.". They are doing adaptive training with people before they start training to become guide dogs, so please look at them cutely.
안내견인식 목줄(Leash)

All guide dogs that have passed training as guide dogs and met their partners are wearing certified necklaces. The name and phone number of Samsung guide dog school are written on it, so you can contact us in case of emergency.
장애인 보조견 표지(Certificate Card)

All guide dogs and Puppies in Puppy Working have a 'Certificate Card' issued by the Ministry of Health and Welfare. This proves they are guide dogs for partners and helps them use public transportation, go to public places, accommodations, restaurants, and so on.
Status of guide dog activities around the world (as of August 2019)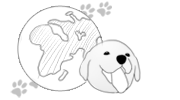 Currently, there are 98 guide dog training institutions in 32 countries around the world, including the United Kingdom, the United States, New Zealand, and Japan, and about 22,000 guide dogs are active every year and 3,200 meet their partners. Most of these guide dog training institutions are nonprofit organizations and are run by donations or volunteers. In Korea, the guide dog business began in 1993, and around 60 guide dogs are currently operating for people with visual impairments.