World History of Guide dog
The first special relationship between a dog and a blind person is lost in the mists of time, however perhaps the earliest recorded example is depicted in a first-century AD mural in the buried ruins of Roman Herculaneum. And there are other records of dogs leading blind men from Asia and Europe up to the Middle Ages.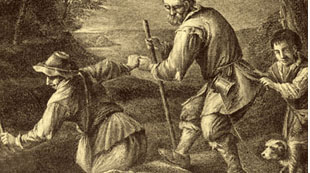 1916 The first guide dog

The first attempt to train dogs to aid blind people came in 1780s at a hospital for the blind in Paris. In 1819, Johann W. Klein, the founder of the Institute for the blind in Vienna, mentioned the concept of the guide dog in his book on educating blind and described his method for training dogs. The modern guide dog story, however, begins during the First World War, with thousands of blind soldiers by poison gas. A German doctor, Gerhard Stalling, got the idea of training dogs to help those affected when he accidently witnessed his own German shepherd looking after a blind patient. With the strong impression, Dr. Stalling started to explore ways of training dogs to become reliable guides and in Aug. 1916 opened the world's first guide dog school for the blind in Oldenburg with German Red Cross. The school opened many branches in Germany training up to 600 dogs a year. These schools provided dogs not only to ex-servicemen in Germany, but also to blind people in other countries until its shutdown in 1926. By that time another large guide dog training center had opened in Potsdam which was proving to be highly successful. This school's work broke new ground in the training of guide dogs, and it was capable of accommodating 100 dogs at a time and providing up to 12 fully-trained guide dogs a month.
1929 Eustis and Frank established the Seeing Eye
(The oldest existing guide dog training institute)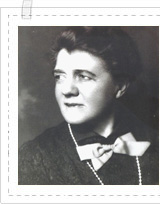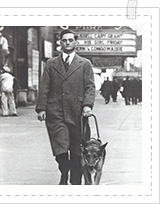 1931 Starting Guide dog training in UK

In 1932, he began a guide dog training program in The Guide Dogs for the Blind Association and his program was instrumental in the successful development of guide dog training in the UK, eventually becoming the director of the center for training guide dogs for the blind. For this activity he was awarded Order of the British Empire.
History of Guide dogs in Korea
Samsug Guide Dog School's First Guide Dog 'Bah Dah'

The first guide dog in Korea was German shepherd "Sarah" partnered with Prof. Lim, Ahn Soo who returned in 1972 with her from study in the US Since then, there had been several guide dog program attempts by foreign institutes, however faced difficulties of program maintenances and challenges from lack of social/public understanding of guide dog. The first guide dog in Korea was Labrador retriever "Bah Dah" in 1994 trained by the first systematic training process of SGDS. And now over 70 guide dogs are acting in Korea